With a wonderful culture, some of the highest mountain peaks in the world, amazing wildlife, and welcoming people, Nepal has some of the best of everything for all sorts of travellers. It's a dreamy destination with a lot of variation that holds a very special place in my heart. I really loved Nepal, it's one of my favourite destinations in the world and I can't wait to visit it again one day! Here are 10 good reasons why you should visit Nepal.
10 Reasons Why You Should Visit Nepal
1. Rich and vibrant culture
There are more than a hundred different ethnic groups in Nepal and you can learn more about their lifestyle, religion, music, festivals, traditions, etc.
The difference between life in the little mountain villages is striking compared to life in bursting Kathmandu. The capital is a chaos of sounds, smells, and movement with lots of ancient and historical sites worth visiting. Durbar Square, for example, Kathmandu's main square, is home to the Kumari, the living goddess of Nepal.
2. Trekkings in the Himalaya
The highest mountain peaks of the world are one of the main reasons why people choose to visit Nepal. Trekking in the Himalayas was definitely one of the highlights of my trip and an experience I'll never forget!
Apart from the popular Everest Base Camp trek, there are lots of other beautiful treks you can do in the Himalayan Mountains. Some examples are the Annapurna Base Camp trek, the Langtang trek, and the Manaslu trek, but there are many, many more. Options are available for all fitness and experience levels and you can choose between treks of a few days, a few weeks, or even months.
Read: How to Trek the Annapurna Base Camp Without a Guide
3. Amazing wildlife
It might not be the first thing to pop into your head when thinking about Nepal, but it's an excellent destination for lovers of wildlife. The lowlands offer a chance to see an incredible variety of animals like one-horned rhinos, crocodiles, leopards, Royal Bengal tigers (if you're very lucky), elephants, sloth bears, monkeys, deer, and hundreds of bird species.
Chitwan National Park is the most popular national park in the country, and Bardia National Park is another excellent option that's slightly more off the beaten track.
Read: Chitwan National Park: A Guide to the Jungle of Nepal
4. You'll meet wonderful people
There's a saying stating that while you first visit Nepal for the mountains, you return for the people. The Nepali are renowned for being friendly and hospitable, and I couldn't agree more. They're eager to make you feel welcome in their beautiful country and tell you everything you want to know about it. I've met lots of genuinely friendly people here who I'd love to see again one day.
5. Nepali delicacies
Due to its geographical location, Nepali cuisine is greatly influenced by its neighbouring countries China and India. But this doesn't mean it's not unique, on the contrary!
You can't go to Nepal and not try Dal Bhat (rice with lentils and vegetables), its local dish, or momos (Nepalese dumplings), a popular snack you'll find on the corner of every street.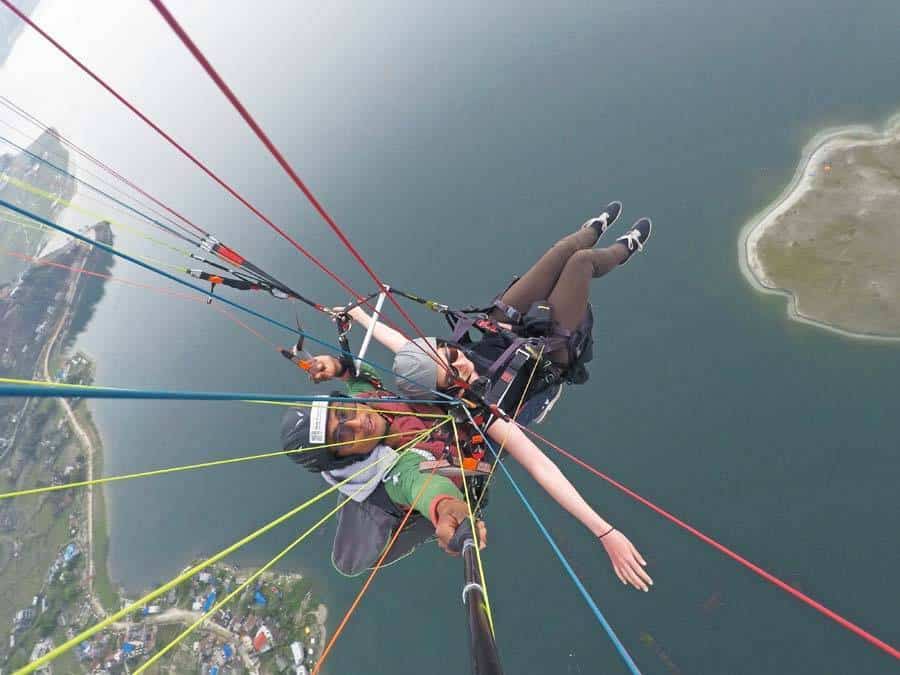 6. Incredible adventures
If you're an adrenaline junky, you'll feel like you're in paradise when you visit Nepal. Besides trekking, you can go white water rafting, bungee jumping, paragliding, rock-climbing, zip-lining, mountain biking, etc. Nepal is full of adrenaline-rush activities.
Read: Paragliding in Pokhara, Nepal
7. It's safe to visit
Nepal is a very safe country with one of the lowest crime rates in the world. Even the bigger cities like Kathmandu are safe, although you should always use your common sense and be aware of your surroundings. It's also a safe destination for solo (female) travellers.
This being said, nobody can predict when the next earthquake or natural disaster will happen, but this shouldn't stop you from visiting a country.
8. Spirituality and mysticism
The greeting in Nepal, Namaste, says a lot about the country. It means 'the divine in me acknowledges the divine in you'.
Most of Nepal's population practice Hinduism, but there's also a heavy Buddhist influence. There's also a small amount of Muslims, Christians, and Sikhs. The beautiful thing is that there's a great tolerance among believers of these different religions.
When you wander around the streets of Nepal, you'll find ceremonies going on in temples and hear mantras as you pass by. It's an enlightening experience that will make you think about life and death.
9. Nepal needs tourists after the earthquake
As most of you will know, Nepal was hit by an earthquake that measured over 7,8 magnitude on the Richter scale in April 2015. It was followed by a large aftershock afterwards with disastrous consequences.
Travellers stopped going to Nepal, which was another catastrophe because tourism is the single largest industry in Nepal. Although a lot has been rebuilt, Nepal is still recovering from the earthquake. By travelling here, you can contribute to its economy and help rebuild this beautiful country.
10. Value for your money
Nepal is one of the cheapest countries in Asia and an excellent choice for budget travellers. You can travel here for less than €17,20 ($20) a day.
There's a lot of cheap accommodation, and restaurants and transport are reasonably priced too. It's also possible to hike and trek in the mountains by yourself without spending a fortune on a guide.
Pin it for later: