Dinant is a charming city located by the river Meuse, in the French-speaking part of Belgium (Wallonia). It's quite picturesque and just a short journey away from Brussels. Due to its strategic location along the river, Dinant was often exposed to battles and war. It's also the birthplace of Adolphe Sax, the inventor of the saxophone. There are some fun and interesting things to do in Dinant, but considering that it's pretty small, I'd recommend staying here for just one day, unless you want to see more of its surroundings. There are amazing castles, hikes, and caves in the region, including some of my favourites in Belgium!
10 Best Things to See and Do in Dinant
1. Citadelle de Dinant
If you want to learn more about the history of Dinant, then you will love its citadel. It stands high on the Dinant rock and was converted into a museum of weapons and history (including an exhibition about WWI). The current fort was built in 1815, but the site where it stands has been fortified since 1051.
You can either reach it by taking the cable lift (which is included in the price of a ticket) or by climbing up its 408 stairs. Even if you don't feel like visiting the citadel, the climb is still worth it because you'll be rewarded with an amazing view over Dinant and its surroundings from here.
2. Notre-Dame de Dinant
This majestic 13th-century cathedral is one of Dinant's main landmarks. Its exterior will immediately catch your eye and wait until you see the interior; the stained glass windows are stunning! The largest one, which is called the stained glass window of Ladon, is one of the largest ones in Europe.
3. Charles de Gaulle Saxophone Bridge
This bridge crosses the river Meuse, and it's one of Dinant's most famous sights. It gives access to the main square of the city, the place where you'll find the church and the citadel. The Charles de Gaulle Bridge got its name in honour of the former president of France, who got wounded in Dinant during WWI when he was a lieutenant in the army.
There's no doubt that you'll notice the 28 colourful saxophones adorning the bridge as you cross it. They were placed here in 2010, as a tribute to the countries of the European Union. Each saxophone represents a country, and they've become a symbol of the city.
4. Maison de Monsieur Sax
Did you know that the inventor of the saxophone, Adolphe Sax, was born in Dinant? Hence the saxophones on the bridge!
The Maison de Monsieur Sax museum stands where the house in which Sax was born in 1814 once stood. You can learn more about his life and work here. It's a must for music lovers or saxophone fans, and it's entirely free to visit!
5. Meuse River cruise or kayaking on the river Lesse
A great way to relax while admiring the city from another viewpoint is by taking a cruise on the Meuse. There are two options for these cruises. The first one is a 45-minute tour that will take you from Dinant to Anseremme and back. Here, you'll be able to see the Anseremme Priory. The second option is a 2-hour boat tour from Dinant to Freyr, where you'll see the Castle of Freyr.
If a river cruise isn't active enough for you, you can also kayak on the nearby river Lesse. You'll be able to choose between a long (21 km / 13 mi) tour or a short (12 km / 7,5 mi) tour. If you decide to go kayaking, you'll have the opportunity to pass by the beautiful Walzin Castle.
6. Rocher Bayard
This 35-metre high rock formation is one of Dinant's most iconic landmarks. If you're going here by car, you'll pass it when you enter the city.
The rock carries a legend: the four sons of Aymon had a horse named Bayard. When the brothers were fleeing from the terrors of Emperor Charles on Bayard's back, the horse jumped over the river and split the rock with its hoof.
7. Maison Leffe
Set in a former convent, Maison Leffe will tell you the story of Leffe beer. This famous Belgian beer originated in Dinant. It was first brewed in the Abbaye de Leffe in 1240, but the original abbey was destroyed.
Today, the beer is brewed in Leuven, but Maison Leffe is still worth a visit. You'll learn more about the life of a Trappist monk and the beer brewing process here. At the end of the visit, you'll also be able to taste various Leffe beers and determine which one is your favourite!
Read: What is Belgium Famous For? 27 Surprising Facts
8. Couque de Dinant
These local biscuits are made with only two ingredients: wheat flour and honey. The dough is put in wooden moulds in a wide variety of shapes and then cooked. Once the cookies cool down, they become really hard and can be preserved indefinitely.
Couques the Dinant are not meant to be bitten into but broken into little pieces that can slowly melt in your mouth. Apart from eating them, many people also use these cookies as decoration, like Christmas tree ornaments, for example.
Legends say that the biscuits originated in 1466 when Dinant was sacked during the Liège wars. The citizens were desperate as they didn't have anything to eat but flour and honey. They came up with the idea of mixing these ingredients to make the dough and then cooking it. As the dough was so firm, they decided to imprint it and make various designs.
If you're looking for a nice souvenir from Belgium, this might just be it!
9. Outdoor adventures
There are plenty of fun outdoor adventures around Dinant. I've already mentioned kayaking on the river Lesse but did you know you can also go zip-lining and rock climbing? One of the most famous rock climbing areas in the area (and also in Belgium) are the Rochers de Freyr, offering climbing routes for all levels.
Other popular activities in the region are hiking, playing golf and exploring caves. The beautiful Grottes de Dinant La Merveilleuse are just a 10-minute walk from the centre of the city. If you have a little more time to spare, you could also head to the Grottes de Han, a pretty impressive cave complex that's a half an hour drive from Dinant.
Read: Exploring the Caves of Han-Sur-Lesse in the Belgian Ardennes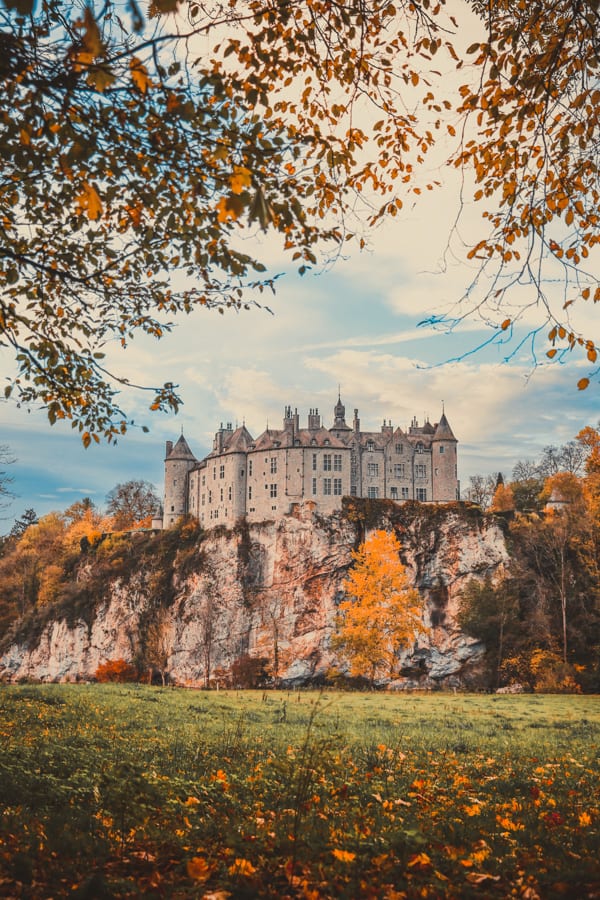 10. Nearby castles
Some of Belgium's most beautiful castles are just a short drive from Dinant! I've briefly mentioned the stunning Castle of Freyr with its Versailles-like garden that's definitely worth visiting.
Another castle, looking as if it came straight out of a fairytale, is Vêves Castle. It's easy to understand why it's also called Sleeping Beauty's Castle. It dates back to the Middle Ages, and it's a really enchanting place.
One of my favourite Belgian castles is Walzin Castle. Although you can't visit its interior because it's a private domain, this castle is a really spectacular one. It's perched high above a rock and overlooks the Lesse River.
Tip: You can hike from Vêves Castle to Walzin Castle through the Nature Park of Furfooz. This is one of my favourite hikes in Belgium! The map of the Vêves Walzin trail can be found by clicking the link.
How to get to Dinant
By train: Dinant can easily be reached by train from Brussels via Namur (2 hours). The railway station is located just a 5-minute walk from the city centre.
By car: If you have or rent a car, Dinant is a drive of a little over an hour from Brussels.
By tour: There are full-day tours from Brussels that will take you to Dinant and Luxembourg.
How to get around in Dinant
Dinant is a very small city, and everything can easily be reached on foot. However, if you want to visit the nearby castles, the caves of Han or go rock climbing or kayaking, you'll have to take the bus or drive yourself.
Are you looking for other fun day trips in Belgium? Check out my list with the best 30+ day trips from Brussels.
Pin it for later: