That's right, jungle in Nepal! The jungle might not be what Nepal is famous for but it ended up being one of my favourite destinations in the country (although I did have some mixed feelings because the elephants aren't treated well at the breeding centre). It's a wonderful place to relax, spot wildlife and learn about the country's natural history. Here's a handy guide with everything you need to know if you're heading to Chitwan National Park.
Things to do in Chitwan National Park, Nepal
It depends on what you want to do and how much you want to relax, but I'd suggest staying in Sauraha (the closest town to the park) for at least two to three nights. You might have to stay longer if you want to do a multiple-day trek in the jungle.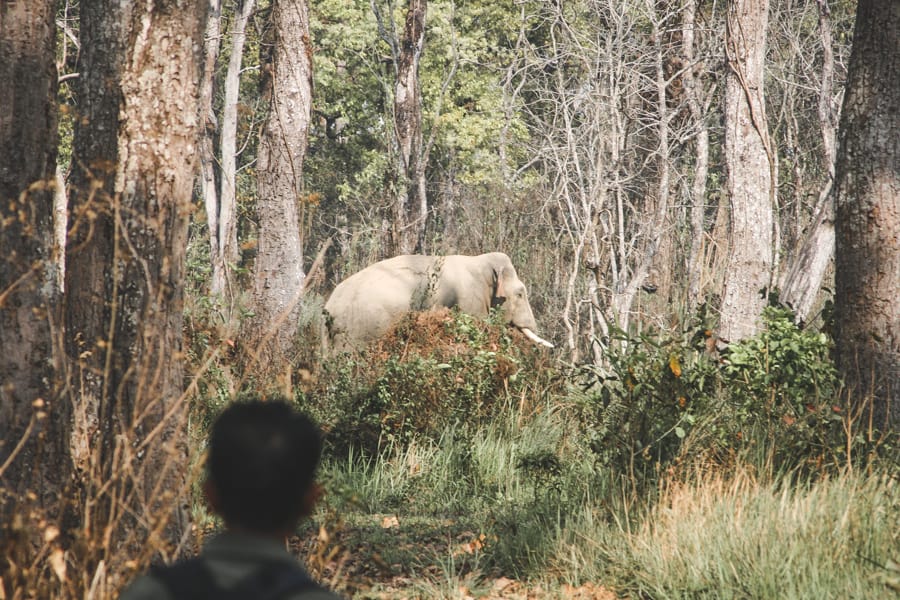 1. Go on a jungle safari
The main attraction in Chitwan is going on a safari. Chitwan National park is pretty large, and there's a lot of wildlife you can spot in this part of Nepal, including rhinos, elephants, sloth bears, leopards, monkeys, etc. You might even spot a tiger if you're lucky.
Walking safari: The walking safari was my favourite part of my trip. I loved it so much that I ended up regretting not going on a multiple-day walk. We were lucky however to spot lots of wildlife on the 1-day trek. I had two amazing guides to myself, and we spotted a wild elephant, lots of rhinos, deer, sloth bears, and even saw tiger footprints.

Jungle walks are not recommended for the faint-hearted though. It's quite an adventurous experience, and at one point, we had to run away and hide from a wild elephant The guides, however, are there to keep you safe and they know how to react in dangerous situations.

Jeep safari: A 4WD safari is an animal-friendly alternative to the elephant safari. It will allow you to get further into the jungle and spot some wildlife. I went on a half-day jeep safari, but didn't spot as many animals as during the walking safari. You have to be lucky since nature is unpredictable and there's no guarantee to spot any wildlife.
A guide is essential if you want to go into the park, and tours can be booked through your hotel or at one of the numerous shops selling tours. You'll also need to pay an entrance fee to the park (2.000 Rupees for foreigners, 1.000 Rupees for SAARC, 50 Rupees for Nepali).
2. Canoeing
A canoe ride on the Rapti river is the best way to spot crocodiles and to go bird watching. I went on a canoe ride before my walking safari and we spotted lots of crocodiles and some beautiful birds.
It was a relaxing introduction to the park with beautiful landscapes all around. Just like the safaris, canoe trips can be booked through your hotel or at one of the shops.
3. Learn about the Tharu culture
Chitwan is surrounded by small villages populated by the Tharu, the dominant ethnic group in the Terai region. Their mud-walled houses can be seen in villages like Harnari and Amaltari. The easiest way to visit these villages is by renting a bike and cycling from village to village or by booking a tour. It's also possible to stay at a Tharu homestay if you'd like to have a more authentic experience.
If you're interested in their culture, places like the Tharu Cultural Museum or the Sauraha Tharu Culture House might also interest you. The culture house offers shows with Tharu songs and cultural dances in the evening. It's quite a touristic experience, but I thought it was fun nevertheless.
4. See the elephants
Elephant bathing is a popular attraction in Chitwan, but I wouldn't recommend doing it because they're not treated well.
Read: Chained Elephants in Chitwan National Park, Nepal
It's also possible to see the elephants without hurting them. You could head to the river and just watch them bathe. Or watch them as they leave their camp in the morning.
If you really want to interact with elephants, bathing them is still better than riding them. Tourists often want to ride the elephants and watch them do tricks, but these wild animals need to be tamed before they can be ridden. The process of taming them is brutal and baby elephants are being tortured. You can watch this disturbing video of the process if you're curious.
So don't ride elephants.
How to get to Sauraha
Be prepared for bumpy roads and lots of traffic!
Tourist bus: This is the most common way to get to Chitwan. You can take the tourist bus from Kathmandu (6 hours) or Pokhara (7 hours). Tickets can be bought from a travel agency or from your hotel (prices vary but they should be around 700 Rupees). The bus will drop you off at Bachauli bus park, a 15-minute walk from Sauraha, which is where most hotels are.

Local bus: The cheapest way to get there is by taking the local bus. But it will also take you longer to get there and it won't be that comfortable.

Taxi: Another way to get there is by taking a taxi, which will is faster than the bus. Make sure to negotiate the price before getting in though, it should cost around 9.000 Rupees.

Flight: The nearest airport from Chitwan is Bharatpur Airport. It's 10 km (6,2 mi) away, so you'll have to take a taxi afterwards. You can fly from Kathmandu, which will cost you around 12.000 Rupees and take about half an hour.
Note that the amount of time on the bus can vary. When I took the tourist bus from Chitwan back to Kathmandu, there was a lot of traffic, and it took us 11 hours to get there.
Where to stay in Chitwan
There are a lot of accommodation options in Sauraha, from basic ones without air-conditioning to 5-star resorts. It's also possible to stay in resorts inside the park.
I went for something in the middle (but slightly on the cheaper side) and stayed at Gaida Lodge in Sauraha. The staff here was lovely, and the manager is the only person I met in Chitwan who really seemed concerned about the wellbeing of the elephants. The food here was good too and (like every lodge) they will help you organise tours and offer free pick up from the bus station.
Other things you should know before visiting Chitwan National Park
The best time to visit Chitwan is from late January to March. This is when you'll be able to spot most animals.
Although not so many, there are ATM's in Sauraha.
Chitwan is hot, so make sure to bring sunscreen and drink lots of water.
At night, it's common for rhinos to walk in the streets of Sauraha, so be careful.
Read more about Nepal:
– How to Trek to the Annapurna Base Camp (With or Without a Guide)
– Top 9 Places to Visit in Kathmandu (After the Earthquake)
– Paragliding in Pokhara, Nepal
Pin it for later: