Are you looking for your next adrenaline-pumping adventure? Or would you like to face your fears and step out of your comfort zone? Either way, this post full of crazy bucket list ideas will give you some inspiration to truly live life on the edge!
Most of the activities in this post are suitable for the (adventurous) average Joe, but some of them require some experience in specific fields, so do make sure to do some research beforehand.
This list is not for the faint-hearted, and I've only ticked off ten of these activities myself. To be honest, there are things on this list that I wouldn't dream of doing! But I can't wait to tick off some others (like #41, for example).
But without further ado, here are 55 crazy bucket list ideas for adrenaline junkies and adventure lovers.
Crazy Bucket List Ideas for Adrenaline Junkies
Bucket List Ideas in the Air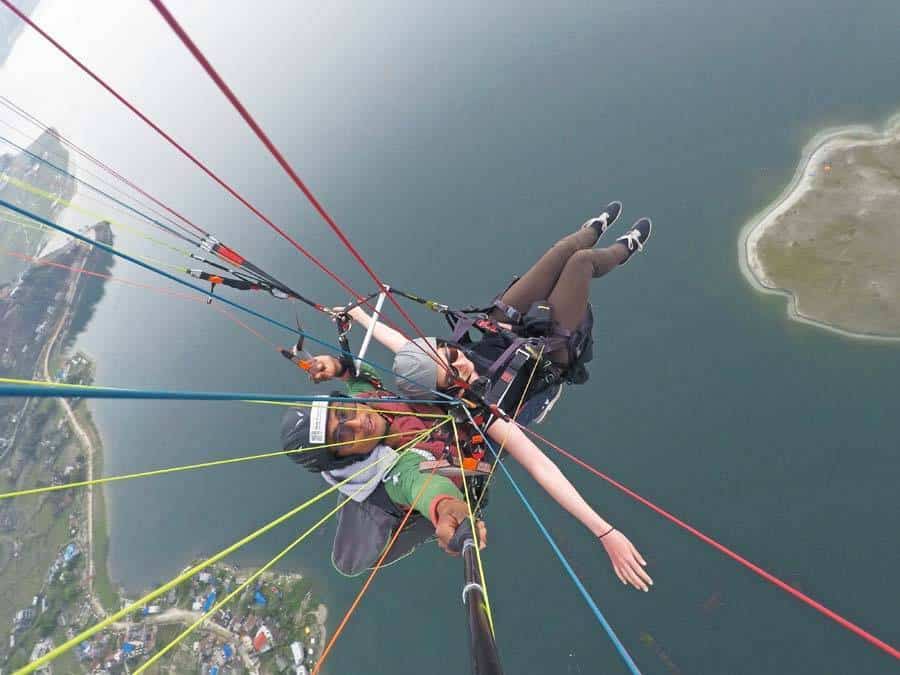 1. Go paragliding
One of my favourite activities in Nepal was to go paragliding in Pokhara. It felt absolutely wonderful to run towards the edge of a cliff and start flying in the air. And I haven't mentioned the landscape yet – it was stunning!
But Nepal isn't the only great country to go paragliding. Countries like Switzerland, Greece, Mexico, Columbia, and Turkey have top paragliding locations too.
2. Bungee jump at the world's highest bungee jump in Hong Kong
With a staggering height of 233 m (764 ft), the Macau Tower is officially the highest bungee jump in the world. The tower is located just outside of Hong Kong, and skyrocketing down its platform is an incredible experience for thrill-seekers!
3. Fly in a wingsuit
Wingsuit flying is probably one of the most adventurous, adrenaline rushing things you can do! However, as you can only fly solo and you have to land with a parachute, you will have to learn how to skydive first.
4. Highlining
Highlining is basically slacklining (walking on a piece of nylon rope that is suspended above the ground) up high. Secured by a harness, you'll walk from one cliff, mountain, or building to another. It's one of the most challenging things you can do, and you'll need both mental and physical skills to achieve it!
5. Take the world's fastest zipline in the U.K.
Zip World Velocity 2 in North Wales is not only the fastest zipline in the world, but it's also the longest one in Europe. With a speed of up to 200 km/h (124 mph) over a length of 1,5 km (9 mi), this zipline is an experience you'll remember for a lifetime!
6. Cross the world's longest pedestrian suspension bridge in Portugal
The longest pedestrian suspension bridge in the world opened in Portugal in April of this year. The bridge is called Arouca 516, and as its name predicts, it's a staggering 516 m (1.693 ft) long. Crossing it is a unique experience if you're up for a thrill!
7. Go SCAD diving
SCAD diving is the same as bungee jumping… but without a cord. After free-falling for about 50 m (164 ft) you'll land into a safety net. Sounds like the ultimate thrill if bungee jumping isn't adrenaline-rushing enough for you!
8. Skydive
Skydiving – it's one of these experiences that you'll remember for a lifetime, and a post with crazy bucket list ideas wouldn't be complete without it! After all, you don't get to jump out of a plane every day (unless, of course, you're a professional skydiver).
I went skydiving in Spa, Belgium a couple of years ago, and it was an AMAZING experience! There are many incredible places to skydive. Some examples are the Palm Jumeirah in Dubai, Mount Everest in Nepal, and the Grand Canyon in the USA.
9. Indoor skydive
If you want to experience the thrill of skydiving without actually jumping out of an aeroplane then indoor skydiving is the activity you're looking for.
During this experience, you'll get to fly in a vertical wind tunnel and learn how to control your movements, which believe me, isn't as easy as it looks! Indoor skydiving is a fun, adventurous activity nearly anyone can partake in.
10. Try out the world's biggest swing in New Zealand
Did you like swings as a child (or even today)? Why not take it to the next level! Getting on New Zealand's Nevis Swing is one of these sensational, adrenaline-rushing experiences. You'll swing in a 300-metres (984 ft) arc with a free fall of 70 m (230 ft) on this gigantic swing!
11. Do the CN Tower's Edgewalk in Canada
Located in Ontario, the CN Tower is one of Canada's most popular tourist attractions. You'll have 360-degree views over the city from its viewing deck, but do you know what the best part about this tower is? You can actually lean off the edge of its 356-metre (1.168 ft) high platform without using your hands! It speaks for itself that you'll be secured with a harness when doing so.
12. Abseil down a mountain
Abseiling is basically the opposite of climbing. You'll descend a steep slope, mountain, or cliff using a rope. Contrarily to rock climbing, this is an adventurous activity that's very accessible, as it's suitable for all skill levels.
13. Go parasailing
Parasailing is similar to paragliding, but the difference is that your parachute is pulled by a boat. It's a thrilling experience, and on top of that, you'll also get to enjoy some amazing views from high up in the air!
14. Walk on the wing of a plane in the U.K.
Yep, walking on the wing of a plane is actually a thing, and you don't need to be a professional wing walker to try it out! As you'll be strapped into a specially designed harness before the plane takes off, you won't need to do any crazy acrobatics to climb on the wing while flying. However, you will definitely need some guts!
15. Fly in a hot air balloon
Riding in the basket of a hot air balloon is an unforgettable experience that can be done in many places. Whether you decide to fly over the temples of Bagan in Myanmar or Cappadocia's cave dwellings in Turkey, it will be an epic adventure.
Adventurous Hiking & Climbing Ideas
16. Camp next to an erupting Volcano in Guatemala
Are you looking for a unique hiking experience? The Acatenango Volcano Hike is a two-day hike, close to the city of Antigua in Guatemala.
Although it's not the easiest hike out there, climbing Volcano Acatenango was one of my favourite and most memorable travel experiences so far! After all, camping next to a volcano that spits lava every 20 minutes is not something you get to do every night!
Read: Acatenango Volcano Hike: A Complete Guide
17. Hike the Hua Shan Cliff Walk in China
The adrenaline rushing Hua Shan Cliff Walk, near the Chinese city of Xi'An, is considered one of the scariest and most dangerous hikes in the world.
The hike is just 300 m (985 ft) long, but considering that you're practically hanging off the side of a mountain, that might be long enough. During the hike, you'll walk on narrow planks bolted onto the cliff, with nothing but a 2000-metre (6.562 ft) abyss underneath.
18. Descend into a volcano in Iceland
Thrihnukagigur Volcano in Iceland hasn't erupted in over 4.000 years, and it's the only volcano in the world that you can explore from the inside!
On a tour, you'll descend into the volcano's magma chamber from the top crater using a lift. This is one of the most unique experiences out there, and one you'll always remember!
19. Start trail running
Trail running is a sports activity where you're running on unpaved surfaces, mostly hiking trails in mountainous terrains. Due to the ascends and descends, trail running is way more challenging than regular running.
20. Go Rock climbing…
Ah climbing – one of my favourite hobbies! This is an adventurous sport that comes in many forms. From top-rope climbing and bouldering on artificial walls to lead climbing on rocks. One thing is certain: if you're an adrenaline junky, you might just fall in love with this sport!
It's also good to know that not every type of climbing requires technical skills or taking courses. Indoor bouldering, for example, is easily accessible to everyone.
21. …ice climbing…
Ice climbing is a lot like rock climbing… on ice… with the help of crampons and ice axes. You will need to learn extra technical skills if you want to become an ice climber, but imagine the thrill of climbing glaciers and frozen waterfalls!
22. …or peak climbing
Reaching the summit of a mountain is a dream of many mountaineers, and you will need some training and perseverance to ascend your first peak.
While some peaks are relatively easy to climb, some motivated mountaineers attempt to climb the Seven Summits: the highest mountains on each of the seven continents.
23. Go vertical camping
Vertical camping is a form of camping combined with rock climbing. It's basically camping in a hanging tent (called a portaledge) on the side of a cliff. This form of camping was invented because some climbs can last for days. It's quite challenging, and a unique place to spend the night!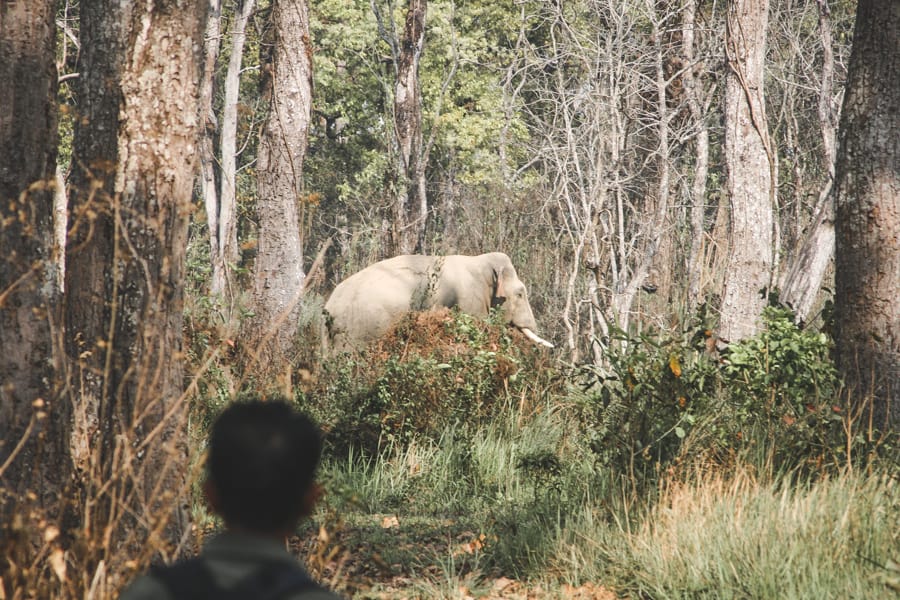 24. Go on a walking safari
Away from the comfort of a 4×4, a walking safari is an incredibly rewarding experience. You'll get to explore wildlife on foot just like explorers did during the olden days. This is an authentic way to really hear and smell your surroundings. And on top of that, walking safaris are better for the animals!
25. Walk 100-kilometres in 24 hours at the Death March in Belgium
Are you an avid hiker? Then this one might be for you.
The Death March (Dodentocht in Dutch) is a yearly event held in Bornem, Belgium. Here, thousands of highly motivated hiking enthusiasts gather to walk 100 km (62 mi) in less than 24 hours. It's a tough challenge, and you'll need a lot of perseverance to make it to the finish on time. The participants who complete this march usually don't make it without aching blisters and painful bodies!
26. Hike the Snowman Trek in Bhutan
Famous for being one of the most challenging treks in the world, the Snowman Trek in Bhutan crosses ten high passes over 4.500 m (14.764 ft). It's said that only 500 people have completed it since 1982, so it comes as no surprise that you'll need a lot of endurance to complete this 24-day journey.
The Snowman Trek is, however, one that will bring you to some of the most remote areas of the Himalayas, which makes for an experience of a lifetime!
27. Climb an active volcano
Climbing an active volcano is another of these thrilling experiences! You'll get to see flowing lava and numerous vents with steam venting out of them from up close.
There are several active volcanoes that you can climb, some more easily accessible than others. A few examples are Mount Etna and Mount Vesuvius in Italy, Mount Sibayak in Indonesia, and Mount Ngauruhu in New Zealand.
Read: Climbing an Active Volcano in Sumatra: Mount Sibayak
28. Race the Marathon des Sables in Morocco
This is one of the crazy bucket list ideas that are not for the faint-hearted, but then again, none of the activities on this list is.
The Marathon des Sables is a 250-km (149-mi) long footrace that takes place in the Sahara Desert in Morocco every year. You'll have to finish it in six days while carrying your own equipment. Can you imagine the heat?
Extreme Bucket List Ideas in water
29. Wreck dive
If you're looking for an unusual underwater experience then wreck diving might be what you're looking for!
There are various places in the world to go on a wreck diving adventure. Most of these places are home to shipwrecks, but sunken aeroplanes can also be found. All in all, diving to a (ship)wreck is a unique, fascinating experience.
30. Deep-sea dive
Although the exact definition of deep-sea diving is not very clear, the limit one can descend when diving recreationally is 30 m (100 ft).
Diving deeper becomes more technical, and thus requires greater knowledge and more advanced courses. It is, however, one of these thrilling experiences that you'll remember for a lifetime!
31. Go ice-hole plunging in Finland
This one might not be for everyone, but swimming in a hole in the ice is actually a popular activity in Finland!
Every winter approximately 150.000 Fins take an icy plunge, and they swear it's a super refreshing, stress-relieving experience.
32. Big wave surf
Places like the Banzai Pipeline in Hawaii, Shipsterns Bluff in Australia, and Praia do Norte in Portugal are considered some of the wildest surf spots on the planet. With waves reaching up to 10 m (33 ft), you need to be a daredevil (and experienced surfer) to surf these waves!
33. Go extreme kayaking
Kayaking is a sport that comes in all shapes and sizes. Most of us might have heard about recreational kayaking, which is a relaxing experience by a lake or a pond, but have you heard about extreme kayaking? The most popular extreme form of kayaking is whitewater kayaking, and some rivers will surely give you an adrenaline rush!
34. Go cliff jumping
Cliff jumping is a pretty simple, yet adventurous activity. You don't need any special skills or gear to jump from a cliff, but you do need some courage.
There are many great places for cliff jumping, some of the most popular ones are Havasu Falls in Arizona, Kamari Beach in Santorini, and Nusa Lembongan in Bali.
35. Go white water rafting on Futaleufú River in Chile
White water rafting has a grading system that's measured in classes between 1 and 6. In this system, class 1 is flat and class 6 is impossible for rafting.
So, if you're looking for the ultimate adrenaline-rushing experience, you might want to consider class 4 or 5 white water rafting, which is described by having many of the following characteristics: big waterfalls, violent currents, large unpredictable waves, and steep gradients with abrupt drops.
36. Try out flyboarding
Invented in 2012, flyboarding is a relatively new activity. When you drive (or should I say fly?) a flyboard, you'll be elevated up to 14 m (45 ft) in the air. This is possible thanks to water jet propulsion technology.
So, if you've ever wanted to jump through the air like a dolphin, this is your chance!
37. Go extreme canyoning
Regular canyoning is quite an adventurous thing to do, but extreme canyoning, which is a more intense version of the sport, is only reserved for real daredevils!
This adrenaline-boosting activity can be done in many countries, but it's especially popular in Croatia and Slovenia.
Crazy Bucket List Ideas in the Snow
38. Go heli-skiing
Heli-skiing is a type of skiing that allows you to reach off-trail areas with untouched snow. These remote places are reached by helicopter, and contrary to popular belief, you don't need to jump out of the helicopter, as it will land to drop you off. It is, however, a thrilling adventure and a skier's dream!
39. Ride a bobsleigh
With speeds reaching 130 km/h (80 mph) and more, bobsleighing is an amazing activity for adventure lovers. After all, sliding down an ice-covered incline at such a high speed is not something you get to do every day!
40. Go snowkiting
Snowkiting or kite skiing is an outdoor sport where you're holding a kite that will pull you across snow or ice. As the kite will pull you up, it's a great activity for anyone who enjoys flying through the air!
Other Unique Bucket List Ideas
41. Visit the Gates of Hell in Turkmenistan
This is one of the most unusual adventurous bucket list ideas on this list, and one of Asia's most fascinating landmarks.
The Darvaza Gas Crater, also known as the Gates of Hell, has been burning since 1971. It was formed when a driller accidentally fell into a gas cavern while mining for natural gas. This caused the ground to collapse and the entire drilling rig to fall in, which then lead to poisonous fumes leaking.
To avoid an environmental catastrophe, Soviet geologists set the hole on fire, assuming the fire would die down within a few weeks. It didn't however, and now, more than 50 years later, people from all over the world make a trip of a lifetime to this unusual place.
42. Go caving
Descending into the earth and exploring its caves might be an incredible thing to do, however, it's one of these crazy bucket list ideas that's not for the faint-hearted.
Caving includes climbing, scrambling, and squeezing yourself through narrow passages, which sends chills down my spine!
43. Go volcano boarding in Nicaragua
Does sliding down the steep slope of an active volcano sound exciting to you?
Then Volcano Cerro Negro in Nicaragua is the place to go! After hiking up the volcano and enjoying the surrounding view, you'll get to slide down its slope on a wooden sledge – and it actually goes surprisingly fast!
44. Go sandboarding in the desert
When going sandboarding, you'll get to slide down a sand dune while standing on a board. It's a unique activity that's pretty fun as well.
There are many places to go sandboarding in the world, from the U.S.A. and Peru to Egypt and Japan.
45. Survive alone in the wild for a week (or more)
If you're an outdoorsy person, surviving alone in the wild for a while might be a pretty exciting challenge!
Do make sure you're prepared and have the right skills before attempting this because it's not a walk in the park (quite literally).
46. Ride the world's tallest rollercoaster (Kingda Ka at Six Flags, New Jersey)
With a maximum height of a staggering 139 m (456 ft), Kingda Ka at Six Flags, New Jersey is the tallest rollercoaster in the world. It's also the fastest rollercoaster in North America, reaching 206 km/h (128 mph). All in all: Kingda Ka is a must for adrenaline junkies!
47. Spend the night in a haunted house
Are you eager (and brave enough) to find out if all these alleged ghost stories are true? Then why not spend the night in a haunted house? This is actually possible.
Take the haunted bedroom of this English house, for example. Word has it that the previous resident of the room, a young child, is still present.
48. Visit Chernobyl
Today, more than 35 years after the Chernobyl nuclear disaster, touring the Chernobyl area is becoming an increasingly popular activity among adventurous tourists.
Although the region still has levels of radiation, it is considered safe to visit. On a tour of Chernobyl, you'll get to visit Pripyat, a town that was abandoned after the disaster.
49. Mountainbike on the world's most dangerous road in Bolivia
Yungas Road, often called Death Road, in Bolivia is argued to be the most dangerous road in the world. Although its nickname may sound pretty scary, numerous mountain bikers cycle down this route every year.
The cycling trail is 80 km (50 mi) long, and it's considered one of the most epic adventures you can have in the country!
50. Go on a zero gravity flight
You don't need to be an astronaut to experience weightlessness, nor do you need to go to space! These days, there are companies offering flights on specially designed aircraft that allow you to experience zero gravity. Trained pilots will actually perform aerobatic manoeuvres that will make you float in the air like a superhero.
Although this must be an incredible experience, I have to warn you that it's not cheap, so try not to fall off your chair when you see the price.
51. Try the world's grossest fruit
Durian is a delicacy in Malaysia, Indonesia, Singapore, and other Southeast Asian countries. This fruits' taste and smell, however, is quite intense, to say the least. It's actually so smelly that it's forbidden to bring in hotels, on public transportation, etc.
And when it comes to the taste… you'll have to try it for yourself. Some people love it, while others find it disgusting. And I belong to the second group. 😉
52. Travel to a foreign country by yourself
This is my personal favourite on this list. Travelling solo is one of the most liberating and enriching experiences you can have! It expands your comfort zone, allows you to build confidence, and teaches you that you can rely on yourself.
Read: Why you Should Travel Solo at Least Once in Your Life
53. Live in another country for a year
If you're looking for one of these crazy bucket list ideas that will teach you a lot, this may be the one for you. Living in another country will allow you to get a real taste of life abroad. It's one of these terrifying, yet exhilarating experiences that you will remember for a lifetime.
54. Drive a race car
I probably don't need to tell you that race cars are super fast. And that's exactly why driving one is the ultimate thrill for speed lovers! There are many places in the world where you can drive a race far, from Australia and the U.S. to Singapore, Germany and France.
55. Cross a country on foot or by bike
Challenge yourself to cross a country (or maybe even a continent?) on foot or by bike. This will be the adventure of a lifetime and you might even be able to write a book about it later!
Animal Bucket List Activities
You may have noticed that this post full of crazy bucket list ideas doesn't include activities like cage diving with sharks, riding elephants, or lion petting. Although these activities may seem fun or adventurous at first sight, they actually harm animals.
This is why I chose not to include them. I'm not here to judge but do make sure to do some research before engaging in this type of activities.
Read: 9 Simple Ways to Be an Animal-Friendly Traveller
Pin it for later:
Do you have some other crazy bucket list ideas that would fit in this post? Let me know in the comments!