Belgium is a small country that's often overlooked on a trip to Europe. It's overshadowed by other European destinations and it even has the reputation of being pretty boring. Although it's true that Belgium is quite petite and you probably won't spend weeks exploring this country, it does have a lot to offer. From fairytale-like towns to historic battlefields and a huge number of beers: here are 10 good reasons to cast prejudice aside and visit Belgium on your next European trip.
You might also like: What is Belgium Famous For? 26 Surprising Facts
10 Reasons Why You Should Visit Belgium
1. Picturesque towns
There are many romantic towns with beautiful architecture to discover in Belgium. The medieval city of Bruges is probably the most famous one and it's also my favourite city in Belgium. It can be quite touristy during the summer months, but if you visit it off-season, the streets will be much quieter.
Bruges is not the only city that's worth visiting though. Don't forget to visit the charming city of Ghent, Belgium's fashion capital Antwerp, and the capital of the country Brussels, as well. There is a lot worth seeing in these cities!
2. Wallonia & The Ardennes
Wallonia and the Belgian Ardennes are situated in the south of the country, and they're totally different from the north. If you're a lover of the outdoors, this is probably the part of Belgium that you'll love the most. Beautiful valleys, small villages, woods and caves mark this region.
The Ardennes are the part of the country you want to visit if you'd like to go hiking, mountain-biking, canoeing, kayaking and more. On top of this, the Belgian Ardennes also have some beautiful villages that you can explore.
Read: 12 Epic Hikes in Belgium (Castles, Viewpoints & Historical Walks)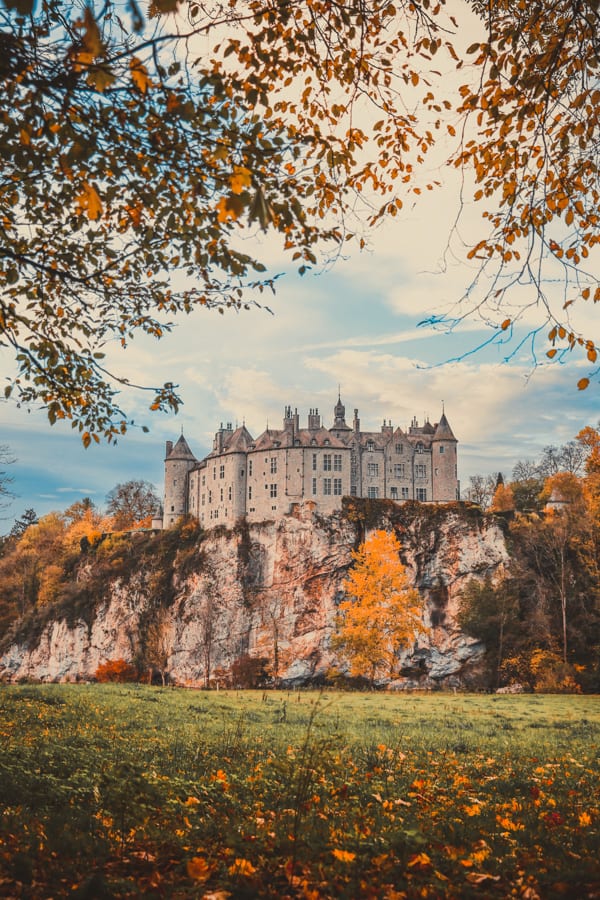 3. Castles, citadels and ruins
One of my favourite things about Belgium is its large amount of castles and citadels. It's said that Belgium has more castles per capita than France! I won't name them all, as the list would be too long, but some of the castles I think are definitely worth a visit are: Bouillon, Gravensteen, Vêves, and Montaigle if you'd like to visit some ruins.
Speaking about ruins, another beautiful place is the ruins of the 12th century Villers Abbey in Villers-La-Ville. The citadel of Dinant (which is the place where the inventor of the saxophone lived), is worth visiting too.
4. The comic book culture
If you're into comic books, you'll love Belgium. It was here that The Smurfs, The Adventures of Tintin, and many other strips were born. Even today, Belgium has more comic book artists per square kilometre than any other country in the world.
You can visit comic book museums, shops and bars, see comic book statues or go on a comic strip walk in Brussels. This walk follows a route that will take you along buildings that are covered in large murals of comic scenes.
5. Historic battlefields
Belgium has seen a fair share of battlefields for a small country. Due to its location between Germany, France and Britain, it always had tactical importance. If you're into history, you will love learning more about the famous battles that took place in Waterloo and Ypres (being the most famous ones).
Places like the Langemark Cemetery and the Passchendaele New British Cemetery can also be visited, and there are some interesting museums throughout the country too. Some examples are In Flanders Fields Museum, Memorial Museum Passchendaele 1917, Battle of Waterloo Museum, and the Bastogne War Museum.
6. French fries, waffles & chocolate
There's no better place to try (Belgian) French fries and waffles than in Belgium. Although these might be available throughout Europe and the rest of the world, the place where they taste the best is Belgium.
Make sure to try both Brussels' and Liege waffles, you won't be disappointed! Belgian food is simply delicious, and I didn't even mention the chocolate yet… it's EXQUISITE.
7. Belgian beer
Did you know that Belgium has over a thousand original beers and more than 200 active breweries? The Belgian beer culture was even inscribed on UNESCO's intangible cultural heritage list. From bitter to sweet and strong to non-alcoholic, Belgium has a beer for nearly any taste.
My personal favourites are Corsendonk, La Chouffe and Kriek Lindemans but it'd be impossible to try them all… or it would take quite some time. Anyway, I'm from Belgium and haven't tried them all. Almost every beer is served in a unique glass, which is considered to improve its taste.
8. Surrealism art
Although surrealism was born in Paris, Belgium was the first country outside of France to establish a surrealism scene. The Belgian surrealist movement became the second-largest after the French movement, and its most famous artist was the Brussels painter René Magritte.
Being an avid lover of surrealism and of Magritte, the Magritte Museum in Brussels is one of my favourite museums in the world. There were many more great surrealist artists in Belgium though, like Paul Delvaux, Marcel Mariën and Paul Nougé to name a few.
9. The Blue Forest
The Hallerbos, which is also known as The Blue Forest, is a fairytale-like forest that turns blue for a few weeks every year. Somewhere around mid-April, millions of blue hyacinths bloom, forming a beautiful carpet of blossom. The forest looks magical during this period and walking on the paths between the flowers is a wonderful experience.
Read: Hallerbos: Belgium's Magical Blue Forest
10. It's easy to travel
Belgium is a small country with great train connections throughout the country. It's easy and doesn't take too long to get from one place to another. For example, you can get from Brussels to Antwerp in just 40 minutes, or Brussels to Bruges in 1 hour.
In addition to this, other European destinations are also easy to reach. You can get to Amsterdam, Paris or London by train in just 2 to 3 hours.
Read: 31 Best Day Trips from Brussels, Belgium
Final thoughts on why you should visit Belgium
If you're asking me, Belgium is not boring! And I'm not saying this because it's my home country. I think Belgium has a lot to offer for such a small country. It might not be a place to explore for weeks on end but I do think it's worth a visit on a Eurotrip. Especially since it's so easy to access and sandwiched between some other nice destinations.
If you're not convinced yet, you might want to check out my post on the most beautiful places in Belgium.
Here are some final pictures of what Belgium has to offer:
Pin it for later: